GREEK ISLANDS TRIP – SEPTEMBER 2009.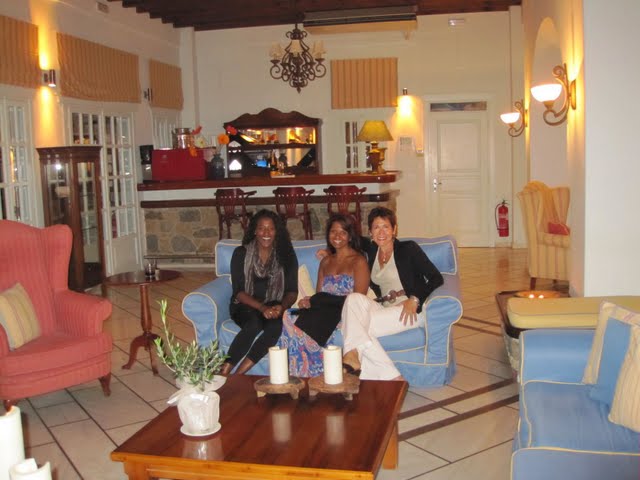 Three of our passengers inside their hotel/villa room on the island of Mykonos – Greek islands trip - Sept. 2009
Santorini (Greek: Σαντορίνη, pronounced [ˌsa(n)do̞ˈrini]) is a small, circular archipelago of volcanic islands located in the southern Aegean Sea, about 200 km (120 mi) southeast from Greece's mainland. It is also known as Thēra (or Thira, Greek Θήρα [ˈθira]), forming the southernmost member of the Cyclades group of islands, with an area of approximately 73 km2 (28 sq mi) and a 2001 census population of 13,670. It is composed of the Municipality of Thira (pop. 12,440) and the Community of Oía (Οία, pop. 1,230, which includes 268 inhabitants resident on the offshore island of Therasia, lying to the west). These have a total land area of 90.623 km2 (34.990 sq mi), which also includes the uninhabited islands of Nea Kameni, Palaia Kameni, Aspronisi, and Christiana (all part of the Municipality of Thira).
Scene of Santorini as taken by one of our passengers during our Sept. 2009 Greek islands trip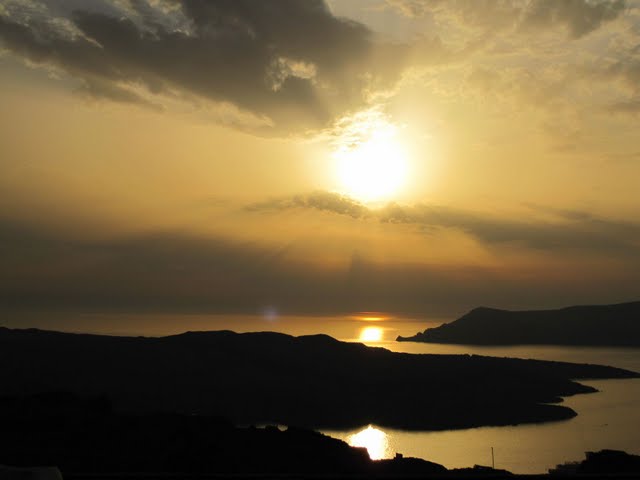 Sunset over Santorini taken by one of our passengers from her hotel room
A few of our singles enjoying a sunny day in Santorini
Oia (Greek: Οία, pronounced [ˈi.a]) is a community on the islands of Thira (Santorini) and Therasia, in the Cyclades, Greece. The population was 1,230 inhabitants at the 2001 census, and the land area is 19.449 km². The population and land area are distributed as follows: 962 persons on 10.150 km² in Santorini, and 268 persons on 9.299 km² in Therasia. The community shares the island of Thira with the Municipality of Thira (Santorini), and is centered in the northwesternmost part of the island.
Oi is a popular spot for watching picture postcard sunsets when visiting the island of Santorini.
Scenes of Oi, as taken by one of our passengers on our Sept. 2009 trip to Greece

Beach party on the last night in Santorini


Trip Reservation Form





Would you like to receive information about upcoming singles trips?
Sign up here!